Photo Galleries
See our new Latest Photos page for pictures from some of the expeditions we ran in 2018, 2019 and 2022.
Photo Galleries

Our 6000m peaks list now has links to photos of all the one hundred and two 6000m peaks.
5000m peaks
Our 5000m peak list contains links to photos of over 150 of the Andean 5000m peaks.
Seven Summits
The highest mountains in the Seven Andean nations.
Top Twenty
The twenty highest mountains, photos and descriptions.
Peaks of Patagonia
A listing of all the major summits in Patagonia with links to photos of some of them.
The end of the day (and sometimes, occasionally, the start).
Andean Wildlife
Shots of wildlife and flora in the Andes.
Mammals
Birds
Flora
Creepie Crawlies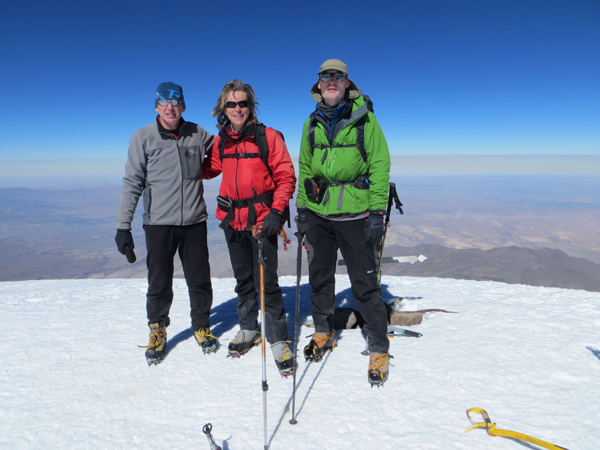 Thom on his 20th Andean 6000m summit in June 2015. Chachani in southern Peru. There are only a dozen or so people in the world who have climbed this many Andean 6000m peaks, and Thom has climbed all 20 of his Andean 6000m summits with our business. See our Latest Photos page for pictures from the other successful expeditions we have ran recently, including Thom's 30th 6000m summit..
Back to main Information File Index.
---