Photos from the latest ANDES expeditions
First Ascents in Peru 2015 - links through to our "Firsts" page
---
Peru 6000m+ 2022
We had very dry conditions in November for our third expedition out to Mismi and Chachani in southern Peru. Very little snow on either mountain this year. We flew to Arequipa and aclimatised aorund the town of Chivay in the Colca canyon, where we got some good views of condors.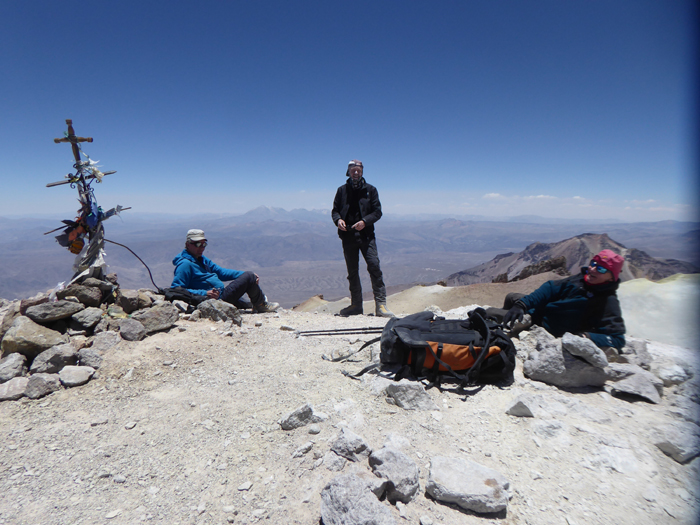 Three out of three clients on the summit of Chachani, 6075m. For Alan and John on the right this was their first ever 6000m+ summit, and Alan had tried several times before.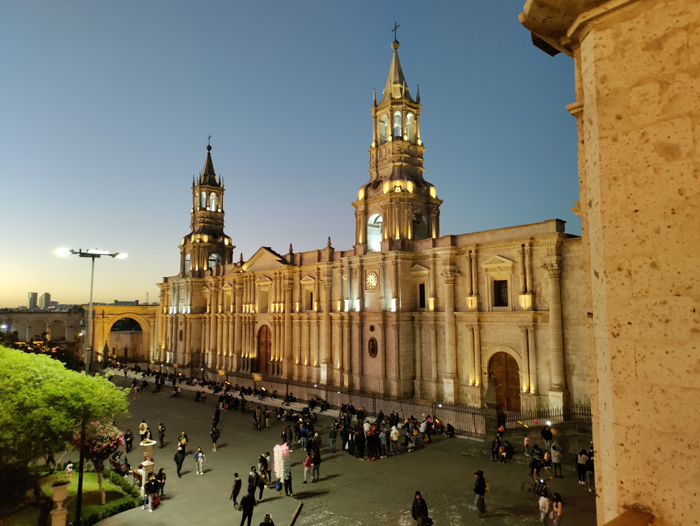 The Plaza de Armas in Arequipa at sunset, taken from our restaurant on the second evening of our 2022 Peru 6000m+ expedition....climbing in the Andes is not all about hard work!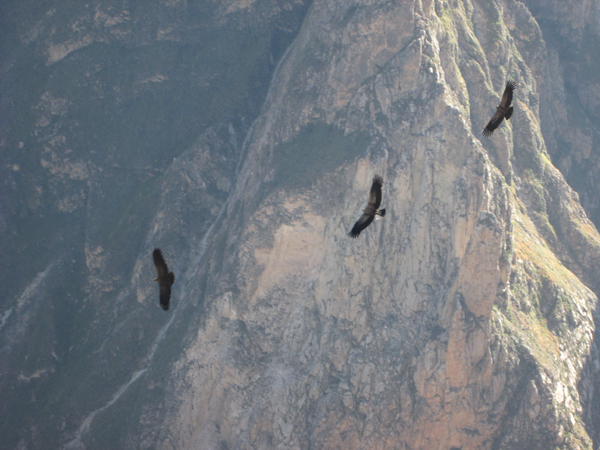 Condors at the Colca Canyon viewpoint.
---
Puna de Atacama 2021

A short research expedition to some less frequented areas in Argentina, including Cerro Champaquí in the Sierras de Córdoba and the 6122m high Cordon del Colangüil.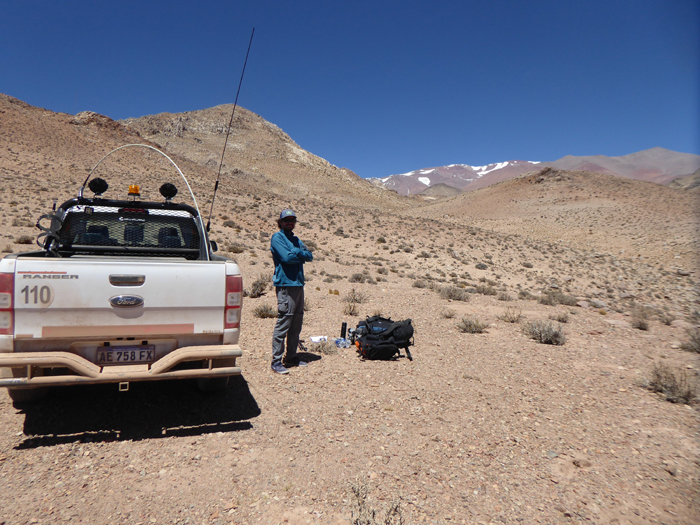 The drop off for Colanguil at 3500m near the Refugio Lavadero. The view is very foreshortened. The summit is 2500m higher and about 15km away.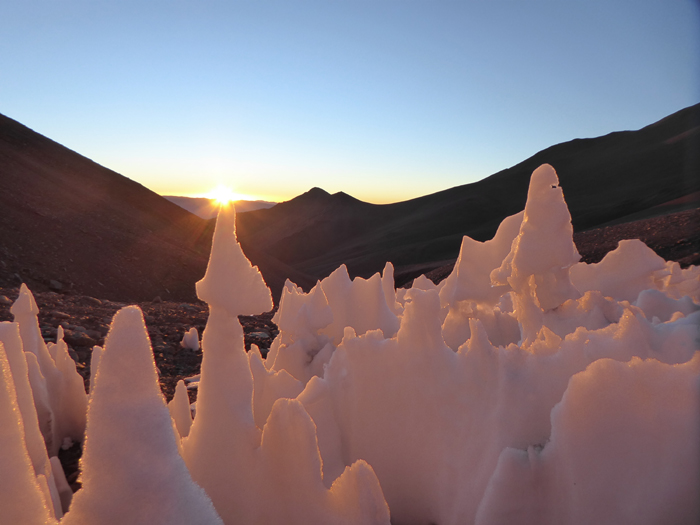 Penitente snow formations at sunrise on Colanguil.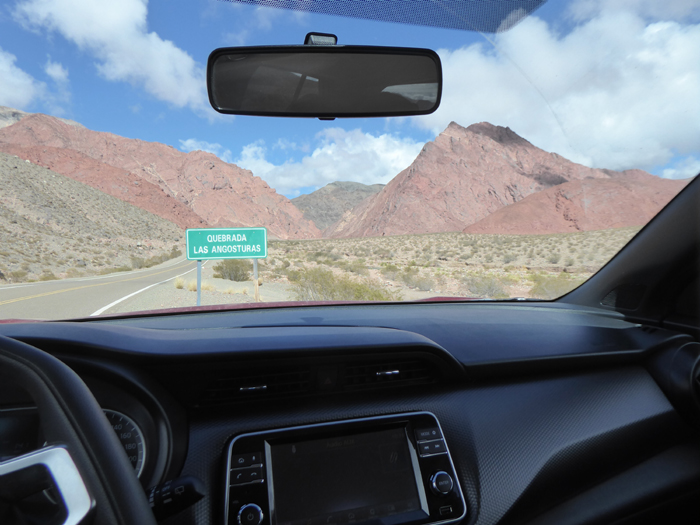 Driving up into the mountains thru the Quebrada de los Angosturas above Fiambalá, Catamarca, Argentina.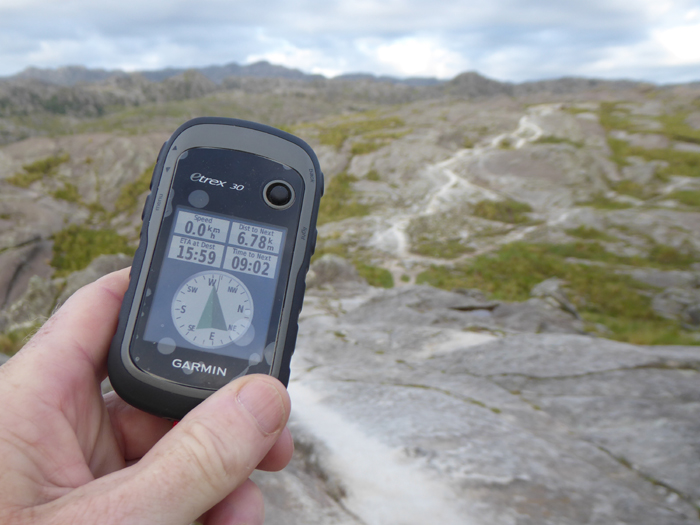 Cerro Champaqui, 6.78km away. the highest peak of the Sierra de Córdoba, and the highest peak for 100's of kilometres in any direction, Champaqui was a very warm and scenic ascent with an easy trail to follow.
---
Chilean Volcanoes 2019
While we made no notable 1st ascents on this recent expedition, Thom did achieve a remarkable 30th ascent, reaching the top of El Ermitaño in very snowy conditions to mark his 30th Andean 6000m summit overall. Only a handful of people in the world have climbed this many of the 100 Andean 6000m peaks.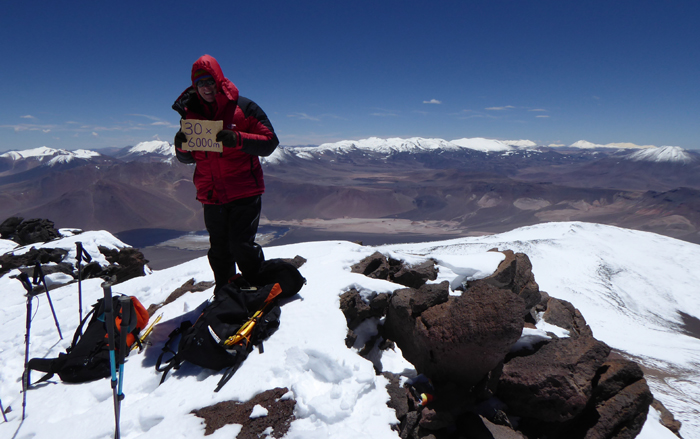 Thom on the summit of El Ermitaño, 6146m, his 30th Andean 6000m peak.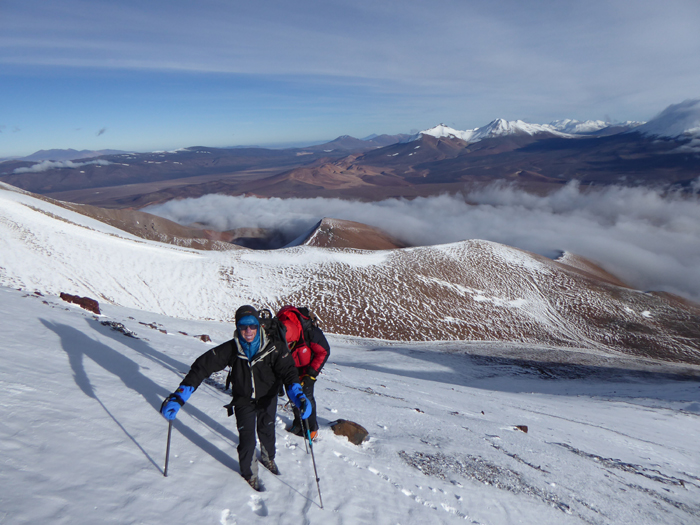 Roger and Thom make a snowy ascent of Barrancas Blancas, 6119m, Chilean Puna de Atacama.

---
Argentina Unclimbed 2018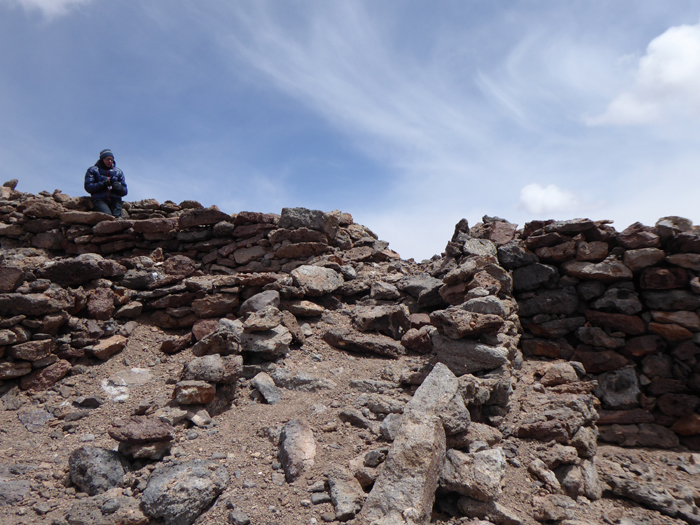 The summit ruins on Nevado Queva. This was our highest peak, at 6140m. It is climbed relatively often for this part of the Andes, once or twice a year. These ruins lie just 10m below the summit and date from the Inca period, about 500 years ago.
Argentina Uonia Snclimbed 2018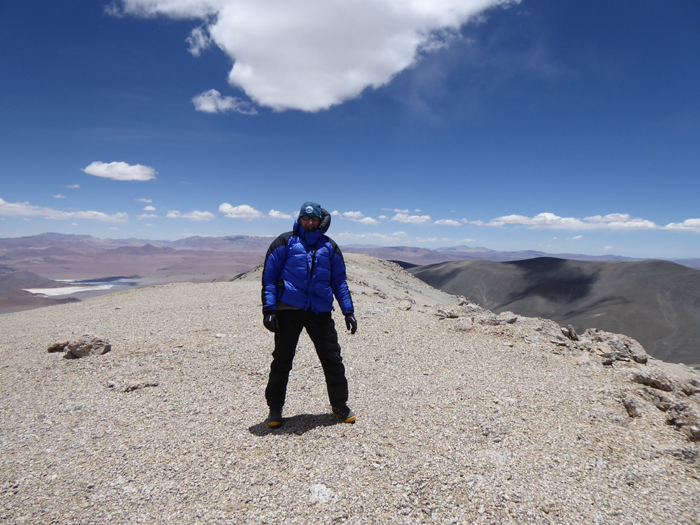 On the summit of Vicuñorco, 5910m, Sierra Laguna Blanca, Argentina. unfortunately our target for our first ascent (aka Laguna Blanca Norte) turned out to have been climbed two separate local climbing groups just the season before (November 2017 and February 2018). Pipped at the post!
---
Bolivia Ski Explorer 2018
Our second time out skiing in Bolivia and the weather and conditions were even better than before. Ten days or more with almost no clouds. We began in the Khara Kota valley by skiing five 5000m peaks in five days, then moved on to Parinacota, where unfortunately the strong sunshine had turned the wet season snow into unskiable penitentes.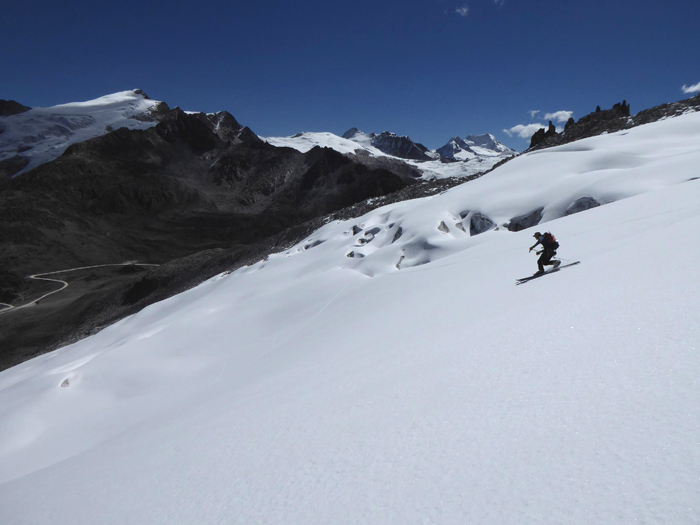 Andrei skiing on Wila Llojeta at 5000m, Cordillera Real, Bolivia.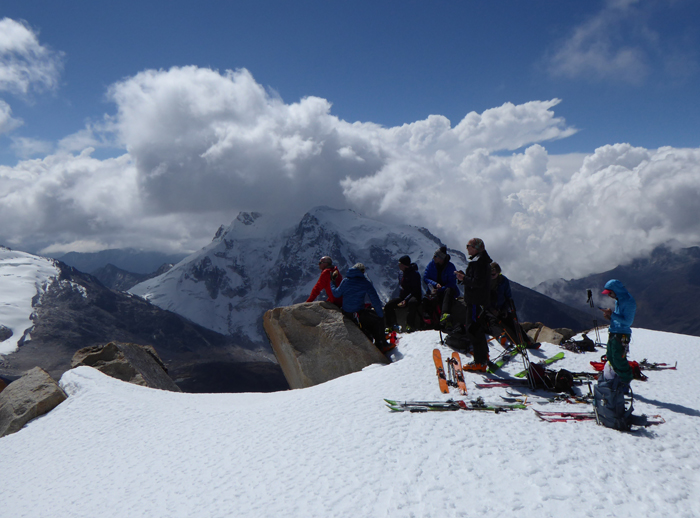 On the summit of Janco Huyo, Cordillera Real, Bolivia.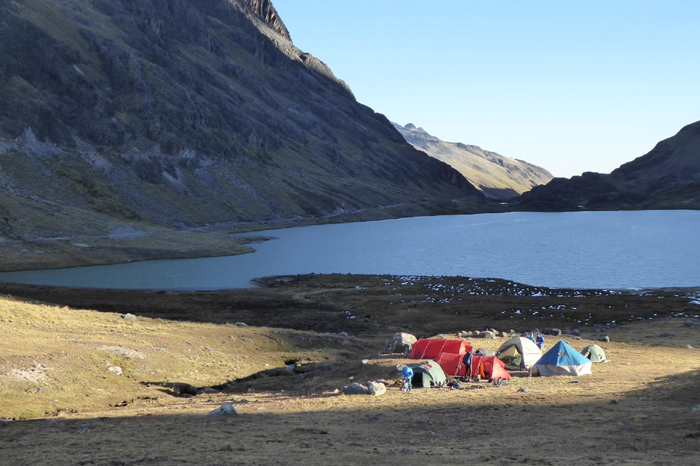 Our campsite by Laguna Jacha Kota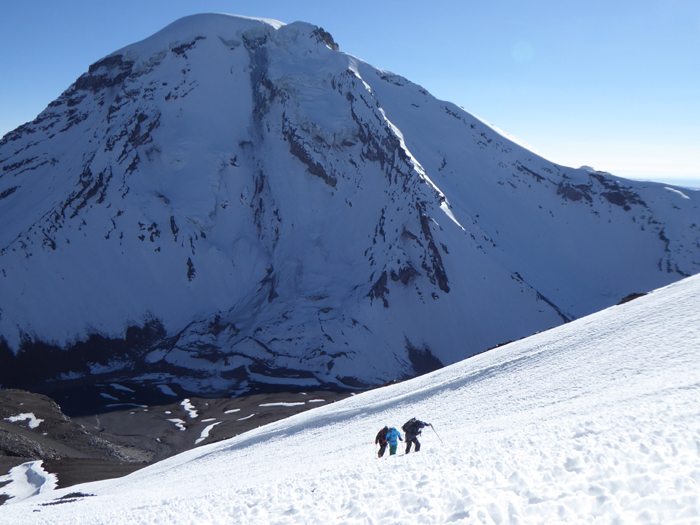 Pomerape from our ascent of Parinacota.
---
Majadita and Aconcagua 2018

Suzanne at high camp by the edge of the glacier on Majadita, Cordillera Agua Negra.
Our 2018 trip to Aconcagua was unfortunately not successful on the main objective due to a very unlucky spell of bad weather. All four of our possible summit days were too windy, with forecast winds of 100 km/h, and summit temperatures of -18-20ºC. On the 9th February we did make it higher on the mountain than any other teams, but when we crossed over the well-named Cresta del Viento the windchill was unsupportable. It was hard just keeping our feet anchored!
Luckily our acclimatisation trip in the Cordillera Agua Negra had seen much better conditions, and Barry, Suzanne and Thom all made the summits of three 5000m+ peaks and Majadita, a 6266m peak that is rarely climbed.
Thom, Suzanne and Barry on the summit of San Lorenzo 5749m, Cordillera Agua Negra.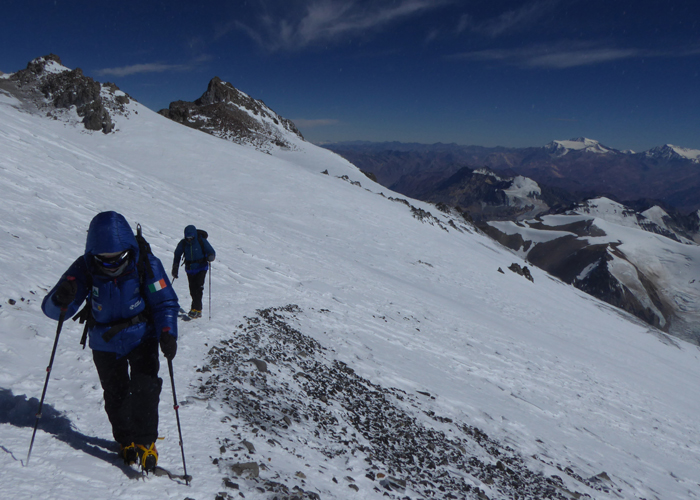 Cold weather at 6400m on Aconcagua.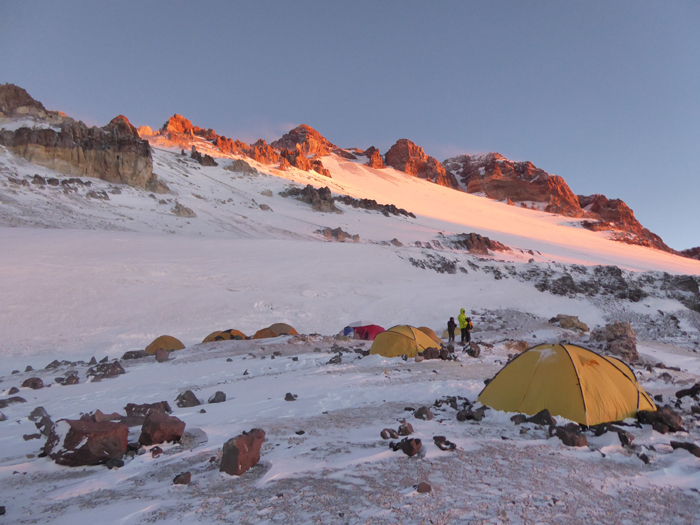 Nido de Condores campsite, Aconcagua.
---