Rock Climbing in South America
Some information on rock climbing in various countries can be reached from this index page.
Details of our climbing holidays in Brazil are on a separate page.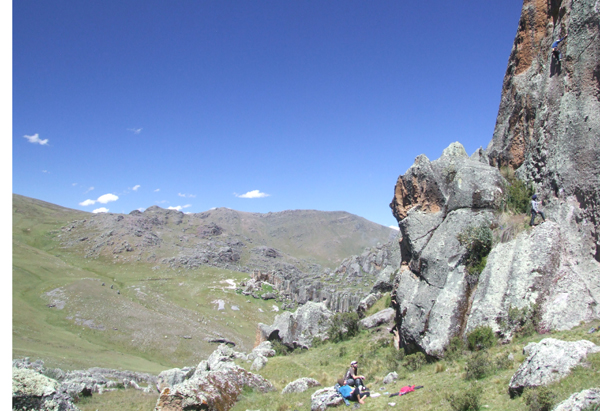 Rock climbing at 4300m, at Hatunmachay near Huaraz, Peru
---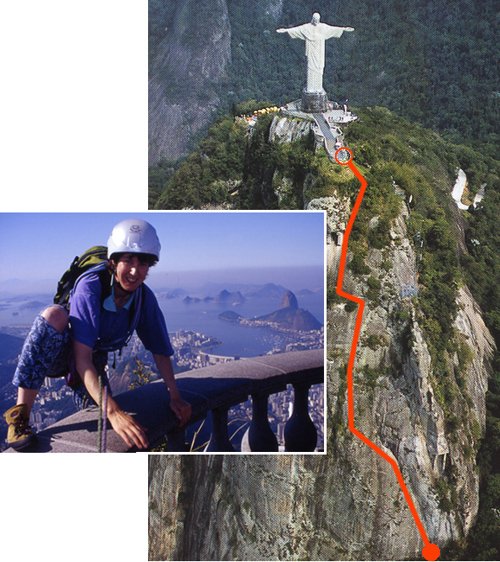 The K2 climb to finish at the Cristo Redentor monument, Rio de Janeiro, Brazil.
---
Guidebooks
The following guidebooks are all reasonably easy to find (often only once you get to South America!!) and are reasonably accurate and useful.
Argentina
Guia de Escaladas - Cerro Catedral (Spanish) by Rolando Garibotti.
Cerro Otto - Guia de Escaladas (Spanish)
Brazil
Guia de Escaladas - Urca (Portuguese) by Flavio Deflon and Delson Queiroz
Guia de Escaladas do Itatiaia (Portuguese) by Alberto and Correa Guedes
Guia de Escaladas - Tres Picos (Portuguese) by Alexandre Portela and Sergio Tartari and Isabella de Paoli
Peru
Huaraz - Rock Climbing Guide -- a nice book that includes Hatunmachay, Los Olivos, Llaca and big wall routes on the Sphinx etc, plus lots of bouldering, widely available in Huaraz
Toposperu.com -- Online topos for some of the most popular areas
Patagonia
Patagonien (German, Spanish or Italian editions) by Gino Buscaini and Silvio Metzetlin
Patagonia Vertical - Rolando Garibotti, Sidhartha press
---