Dates
16th May - 2nd June 2024
Duration
18 days
Grade
About 4B
"Andes" Leadership Fee (includes leaders expenses)

£2695
Exploratory mountaineering in southern Peru
PRICES & COSTS
All are per person.
"Andes" Leadership Fee (includes leaders expenses) -- £2695
Estimated Airfares from the UK -- £1200
Estimated Trek & Travel Costs in Peru -- £500
Estimated Accommodation & Meals -- £400
ESTIMATED TOTAL COST per person -- £4800
OPTIONAL EXTENSION - We can offer an optional 4-day extension to this trip with a local guide who we have worked with regularly before. This will attempt Nevado Chachani, an easy 6000m peak nearer to Arequipa. For costs and details please enquire
What's included in the price you pay ANDES and what's not.
---
INTRODUCTION
Based out of the city of Arequipa in southern Peru, this expedition will attempt new routes on some of the remotest peaks in this part of Peru. After an initial two nights at 2200m in Arequipa to acclimatise we will travel to Chivay in the Colca canyon for three more nights acclimatising. While here we'll visit the famous viewpoint which gives unparalleled views of condors soaring in the early morning sunshine. Chivay is a friendly wee town at 3500m above sea level.
The peaks we plan to attempt are ones we have seen from close up during a previous expedition in southern Peru and are in the general area of Lake Titicaca. However due to the nature of this expedition we cannot disclose the exact names of any peaks and/or routes that we will attempt until we receive a booking form and deposit. On receipt of these we will issue a further information sheet giving details of the routes and the peaks we intend to climb. The routes we are looking to climb are expected to be relatively easy ascents. They will be mainly on rock with just small amounts of snow, and around about alpine AD in difficulty. So on rock, maybe about V.Diff or Severe in UK grades, YDS grades 5.2 to 5.6. The peaks are in the range of 5000-5400m high.
A high standard of fitness is always required for ascents over 5000m, but we don't anticipate this trip being unduly arduous. While previous experience of winter or Alpine climbing would be useful it is not essential. However prospective clients must have at least some summer rock climbing experience, including at least a little multi-pitch experience and some previous experience of abseiling (rappelling).
We have run similar first ascents trips in various parts of southern Peru in 1999, 2002, 2003, 2005, 2006, 2007, 2013 and 2015 and 2022. All of these provided interesting climbing at an easy standard and successfully completed either new routes or first peak ascents. Highlights of these trips included the first ascent of the south ridge of Alccachaya 5768m, and the first ascent of the east glacier on Chichicapac 5614m. Also the first ever ascent of Chichicapac SE, PD. In previous years we also climbed the south face of Palomani Grande 5723m, PD, the SE ridge of Ananea 5853m, PD, and first ever ascents to the summits of Ritipata Oeste, AD, and Palomani Tranca Central c.5630m, AD. Most recently we climbed the north ridge of Cerro Huaytane, 5435m in the Cordillera Huanzo. See our Firsts page for photos and more details.
Outline Itinerary

Days 1-2
Flight via Lima to Arequipa.
Day 3
Day in Arequipa. Hotel
Days 4-6
In Chivay, further acclimatisation. Hotel based.
Days 7-15
First A

s

cents programme, camping
Days 16-18
Travel back to Arequipa and fly home.
Optional 4-day Extension
Day 17
Rest in Arequipa
Days 18-20
Ascent of Chachani, 6075m with a local guide
Days 21-22
Flight home from Arequipa.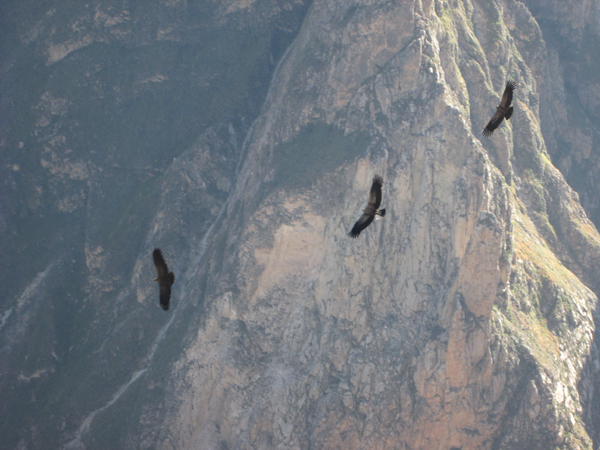 Condors at the Colca Canyon, 2015 "First Ascents" expedition.
---
General Information about our holidays
Please read our warning on altitude before booking this expedition to high altitudes.
Who runs 'Andes' and where we are based
General information about equipment, accommodation, flights, meals etc.
---
AREQUIPA & CHIVAY
Arequipa is a pleasant city in southern Peru, and the nearest place we can fly into. It sits in an oasis at 2200m at the foot of the active volcano El Misti. There is a particularly beautiful Plaza de Armas, with Volcan Misti forming a stunning backdrop. Our usual hotel is located right on this plaza. The nearby Colca canyon is a popular tourist destination - it is famously regarded as the deepest canyon in the world and is one of the best places in the Andes to see condors. We will spend two acclimatisation days and three nights in the town of Chivay at 3500m in the Colca canyon. Whilst here we'll do warm up hikes to about 4500m, and are sure to see condors on this part of the trip.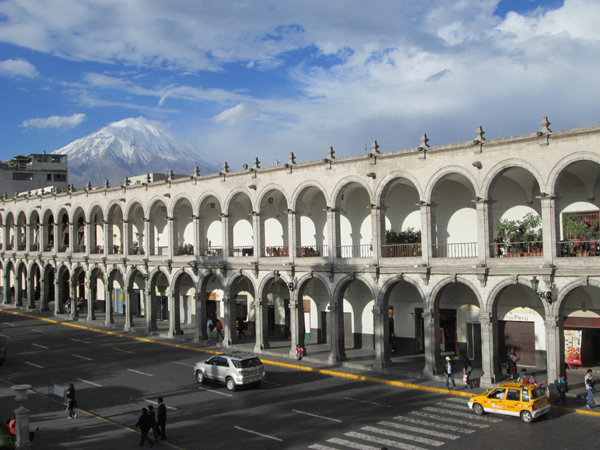 The volcano El Misti seen from the beautiful plaza in Arequipa.
THE PEAKS
For obvious reasons we can't give too many details away about the peaks we intend to climb until we receive your booking form and deposit for this expedition. They are located in the area between Chivay and Lake Titicaca in southern Peru and are relatively near to a remote road, so we'll use a 4x4 to approach to within a half days walk of our base camps. The peaks are moderately technical (up to about Alpine PD or AD, or rock climbing to about V.Diff or Severe, YDS 5.6). They are all generally very rocky with no large glaciers and not normally much snow. All are just a bit over 5000m high.
The valleys where we will camp have been glaciated in the past and many small and scenic lochs remain behind. Most of the foothills and valleys are still used as pastures by the Quechua speaking Indians and we are sure to see llamas and alpacas grazing. We are also likely to see some interesting wildlife, mammals such as the vicuña and many species of birds such as condors, andean geese and hummingbirds.
INFORMATION SHEET
We will supply a further information sheet with more details about the peaks we plan to attempt to customers who have paid a deposit. Please phone the office if you'd like to discuss in more detail the nature of the peaks we plan to climb, or the trip in general, before booking.
We can offer an optional 4-day extension to this trip to climb Nevado Chachani, a 6075m high peak near Arequipa. Chachani is basically a long days walk from a high vehicle base camp at 5000m. The ascent is largely on scree and rock but with an ice-axe and crampons normally necessary higher up. Before heading to this peak you would have a rest day in Arequipa. With this extension the expedition becomes 22 days long. Please enquire about costs if you are interested in this option.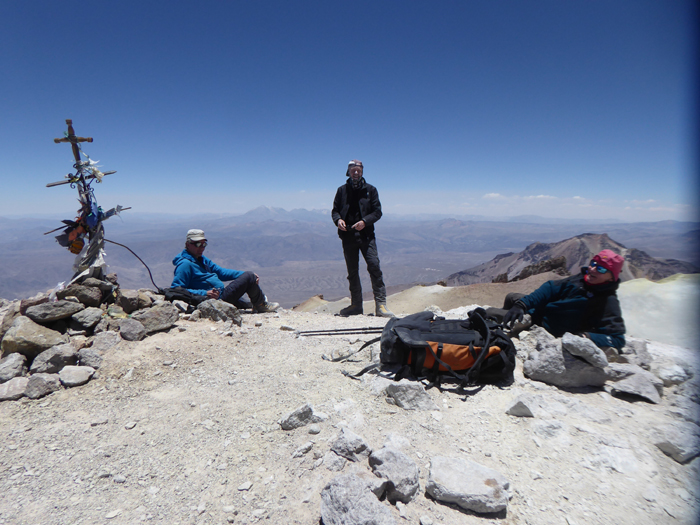 On the summit of NevadoChachani, November 2022. This 6075m high peak features on our optional extension.
CLIMATE
This time of year is the start of the dry season in the Peruvian Andes and there are long periods of stable weather with fewer and less severe storms than the Alps have in a normal summer. There are sometimes high winds at altitude and light snow flurries. Temperatures at altitude are extremely cold, going down to -10ºC during the 12 hours of darkness each night, so bring a warm sleeping bag and a good book!
FITNESS AND EXPERIENCE REQUIRED
Ascents to over 5000m require considerable fitness. Good hillwalking/mountaineering fitness and stamina is important, but for high altitude expeditions clients also need good cardiopulmonary (heart and lung) fitness. This can only be maintained by a program of intensive exercise such as sprinting, squash, circuit training or sprint cycling. This should be done in small doses (e.g. an hour every other day) over a period of at least three months prior to your expedition. Without this training you are unlikely to get to the summit. The trip will be partly donkey/porter supported but there are several days on the itinerary when we will need to do a few hours carry to a high camp, or descent to the 4x4 with backpacks. Cold nights, early starts and dehydrated food are a few of the experiences which will have to be enjoyed.
For the ascents we have planned on this expedition previous experience of rock climbing and abseiling is essential, although you do not need to have extensive experience. It is difficult to predict the exact difficulty of the climbing we'll encounter due to the nature of the trip but we're expecting to climb routes at no more than V.Diff or Severe on rock (US 5.2-5.6 or Alpine PD or AD). Any small snow and ice sections we encounter should be very straightforward and so previous experience of winter climbing or crampon use is not essential.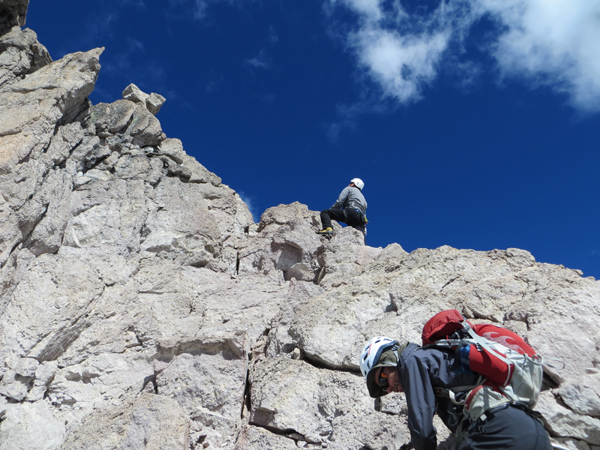 Climbing at 5400m on the Andes "First Ascents in Peru" trip, 2015.
INSURANCE, HEALTH & SECURITY
All clients must be insured for medical costs and repatriation in an emergency. We recommend having insurance for baggage, personal liability and cancellation as well. Vaccinations for tetanus, typhoid, polio and hepatitis are needed! Your doctor may also recommend rabies, cholera and diphtheria injections. Malaria and yellow fever precautions are not necessary as we won't be visiting mosquito infested areas. Peru suffers from a reputation for theft, although we have never seen any incidents. It is important to stay alert when in busy public areas and to guard your belongings carefully at all times. Muggings and other violent crime are very rare. We will issue further advice to all clients before departure.
ORGANISATION & LEADERSHIP
Our expeditions are designed to be small and flexible. The expedition will be co-ordinated, organised and lead by us, but we will consult and involve you when planning the details of the expedition. Please note however that the leaders decision is final where the safety of the group or any member is in jeopardy; for example where retreat or diversion is necessary due to illness or bad weather. The maximum size of the expedition will be three customers plus leader.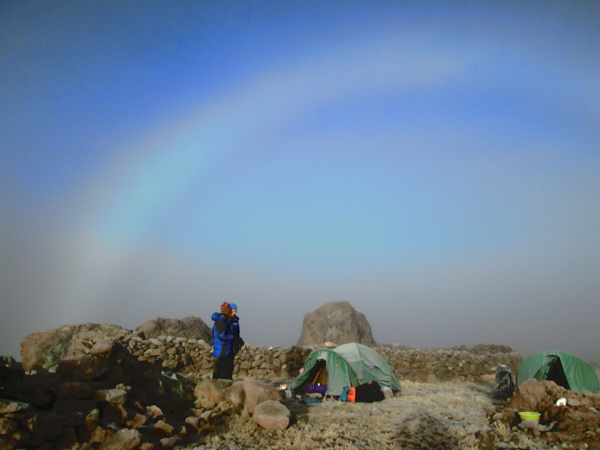 An early morning fog-bow at our campsite, First Ascents expedition, June 2015.
WHAT'S INCLUDED IN OUR PRICE AND WHAT'S NOT INCLUDED
Our price is for leadership/guiding and mountain services only. It INCLUDES the leaders fee (wages) and all their expenses, such as flights, travel, hotels, meals, permits. It also INCLUDES his or her share of communal expenses, which may be such things as 4x4 rentals, diesel and fuel, mule and porter costs, shared hotel rooms.
Our price also INCLUDES all mountain services such as provision of tents, stoves and all other communal camping equipment, all mountain food including all camp food and lunches on day trips. It also INCLUDES any communal mountaineering equipment that may be necessary, such as ropes, karabiners, etc., and on most expeditions emergency use of satellite telephone link.
Our price does NOT INCLUDE - your flights, your insurance, your hotel/hostel accommodation, your meals taken at cafes and restaurants, your share of communal travel costs (e.g. 4x4 rental, mule costs), your personal climbing and camping equipment (i.e. used by you alone, such as sleeping bag, harness, helmet), permits or peak fees payable by yourself.
SAFETY AND RISK
This is an adventure holiday and all clients will be exposed to hazards not found in everyday life by taking part in this itinerary. While we take all reasonable precautions to reduce risk it is neither possible nor desirable to completely eliminate these hazards. It is important that you understand the hazards you may be exposed to before signing our booking form. We have identified the following areas as the principal additional risks of this itinerary. (Some of these could potentially result in serious injury or death). This is not a fully inclusive list - a more detailed risk assessment of this itinerary is available on our Risk Assessments page, or phone/e-mail us and ask some questions!
Crime : Peru has a higher crime rate than Europe. As a wealthy tourist you may attract attention.
Driving, hotels and general safety : In Peru driving, health, fire safety standards and general safety standards are not as high as in Europe.
Remoteness : You will be several days away from professional medical help for much of the time. There is no chance of a helicopter rescue.
Minor slips and falls : due to steep, uneven and unstable ground.
Weather : These mountains are only very occasionally affected by bad weather.
Mountain Hazards : In certain places you may be subjected to a risk of rockfall. There will be some technical climbing on at least some of the ascents, and therefore the usual hazards associated with climbing and abseiling.
Altitude : At high altitudes there is an increased risk of medical problems, most obviously altitude illness.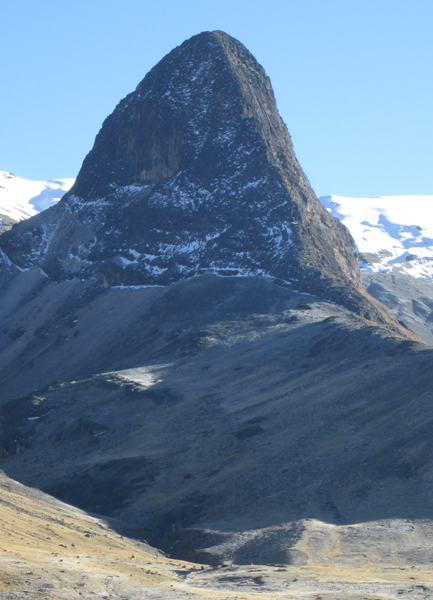 One of our main targets is this unclimbed and un-named 5000m+ rock tower in southeast Peru, not so far from Lago Titicaca.