Dates

9th - 30th June 2024

Duration
22 days
Grade
1A/2A
"Andes" Leadership Fee (includes leaders expenses)

£2395
Easy High Altitude Ascents in Bolivia.
Only 1 space remaining for 2024.
PRICES & COSTS
All are per person.
"Andes" Leadership Fee (includes leaders expenses) -- £2395
Estimated Airfares from the UK -- £1500
Estimated Travel Costs in Bolivia -- £500
Estimated Accommodation & Meals -- £300
ESTIMATED TOTAL COST per person -- £4700
What's included in the price you pay ANDES and what's not.
---
INTRODUCTION
This expedition will be based in western Bolivia, flying out to the capital La Paz. We'll begin with 4 nights acclimatisation time based in a hotel in La Paz, the worlds highest capital city at over 3600m. During this time we'll arrange days out to the famous Lago Titicaca and also an excursion and short walk to the nearby peak of Cerro Chacaltaya, a 5395m high mountain that formerly hosted the worlds highest ski slope!
Once better acclimatised to the high altitudes of the Bolivian Altiplano we'll travel south to the Cordillera Lipez, making a short detour to vist the impressive Salar de Uyuni on the way. In the remote Cordillera Lipez our main objective is the active volcano called Uturunco. At 6008m this is the lowest and also one of the easiest 6000m peaks in the Andes. An old mine road allows access to over 5500m by vehicle.
The final phase of the expedition takes us to the Sajama National Park in western Bolivia where we will make ascents of two more volcanoes, Acotango 6052m, and Parinacota 6342m. An ascent of Parinacota from 2018 is pictured in the header photo above. We'll climb both of these peaks from a hotel/hostel base in the village of Sajama, although for Parinacota (and perhaps Acotango) we'll also use a high campsite at the end of the "road" to enable us to make an earlier start and a shorter day of activity.
All of the peaks on this itinerary involve no technical climbing and are just "walks". But these "walks" can be over very rough and unstable ground, as well as snow and ice, and all at extreme altitude. We do expect to need an ice-axe and crampons for walking up Acotango and Parinacota. For this reason previous experience of winter walking will be very useful, but it is not essential. Please call or email if you have any questions about the suitability of this trip for you.
Outline Itinerary

Days 1-2
Flights to La Paz
Days 3-5
Acclimatisation days in and around La Paz
Days 6-13
Travel to Uyuni, further acclimatisation and ascent of Uturunco (6008m).
Days 14-15
Rest and transfer to Sajama area
Days 16-19
Ascents of Acotango (6052m) and Parinacota (6342m)
Days 20-22
Travel back and fly home from La Paz.
---
General Information about our holidays
Please read our warning on altitude before booking this expedition to high altitudes.
Who runs 'Andes' and where we are based
General information about equipment, accommodation, flights, meals etc.
---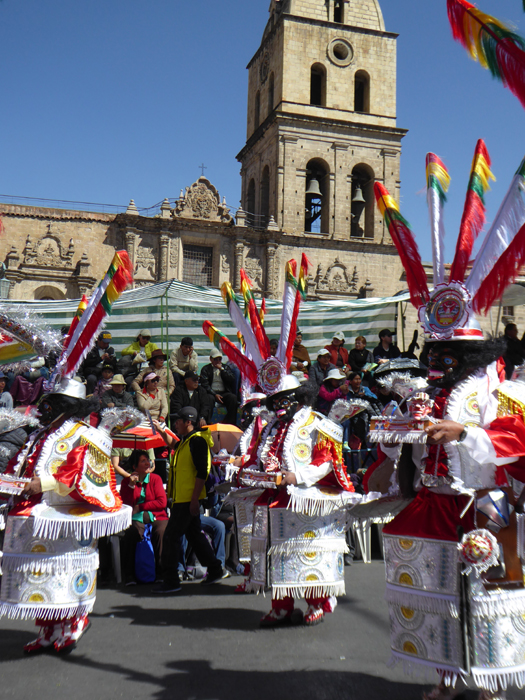 .
La Paz street carnival
LA PAZ
La Paz is the capital of Bolivia and the world's highest capital city. The nearby mountains provide some fresh air and the city has an agreeable climate. It gets warm in the sun during the day but, because of the altitude, quite cold every night. The main business district with its modern skyscrapers is set at about 3700m in the bottom of a canyon. The city stretches up and down the canyon from here; the rich live in the suburb of La Florida; the poorest people live on the steep sides of the canyon and in the district of El Alto at over 4100m above sea level, which is where the international airport is.
ACCLIMATISATION - LAGO TITICACA & CHACALTAYA
As part of our aclimatisation schedule we'll organise a full day tour to Lago Titicaca. Titicaca is famous as the world's highest navigable lake and it's certainly one of the most beautiful. The waters are clear and blue and there are fine views to the snow capped mountains of the northern peaks of the Cordillera Real. You can take a short boat cruise on the lake to see some of the fishing boats and islands and have trout for lunch (this is almost unavoidable when you go to Lago Titicaca).
The worlds highest ski 'resort' is an old rope tow and run-down cafe on the mountain called Chacaltaya just a few hours drive outside of La Paz. We'll organise a day trip to this mountain which will include taking in the short hike to the summit of Chacaltaya mountain, 5395m, for those feeling well enough acclimatised.
UYUNI & UTURUNCO
Uturunco is one of the easiest 6000m peaks in the Andes to climb, and at just 6008m it is also the very lowest of the 100 peaks of 6000m in the Andes. This volcano is located in a very remote part of Bolivia, near the Chilean and Argentine tripoint. On this phaset of the expedition we'll see the huge Salar de Uyuni as part of our fuirther acclimatisation. This Salar is the worlds largest salt flat, and lies at an altitude of 3600m. We'll climb Uturunco from the small vilalge of Quetena Chico, driving up an old mining track to well over 5000m on the northern flanks of this active volcano.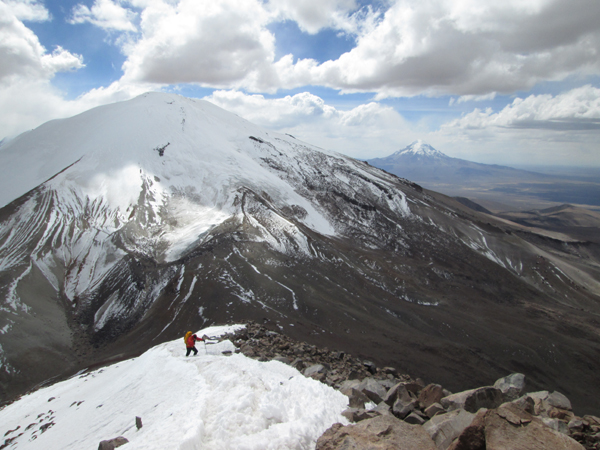 Acotango as seen from high up on the descent of the north ridge of Capurata. Our route will be more or less up the right hand skyline. The distant peak on the right is Nevado Sajama, the highest mountain in Bolivia.
VOLCAN ACOTANGO
Acotango, pictured above, is a 6052m high extinct volcano on the Chile-Bolivia frontier. We are most likely to climb it as a day trip from the village of Sajama, driving to the end of a track at about 5000m. However, we may for logistical reasons use an overnight roadside camp at the end of this track. The ascent of Acotango is largely on paths and snowfields on the northeast side of the peak (depending on the year and the snow conditions). For more information about Volcan Acotango and fotos click here.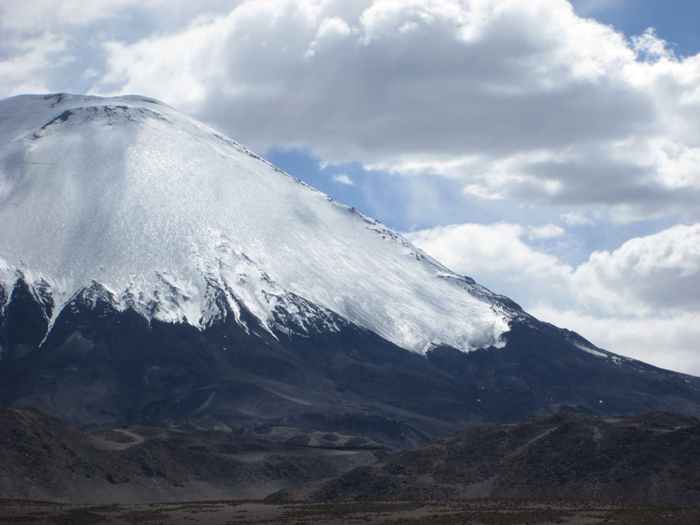 Parinacota volcano in western Bolivia.
VOLCAN PARINACOTA
Parinacota is a beautiful perfect volcanic cone, with a height of 6342m. It lies on the frontier between Bolivia and Chile, about 20km east of the small villalge of Sajama, which itself lies at 4250m. We'll be based in Sajama village while we are in this part of Bolivia, but on Parinacota we'll have an overnight camp for one or two nights near the end of the driveable "road" This is just below the 5300m high col that separates the mountain from the neighbourign peak of Pomerape. Camping here will facilitate an early start, for what will be a along 8 or 10 hour summit day. We drive up to this height from the village of Sajama. For more photos of Parinacota click here.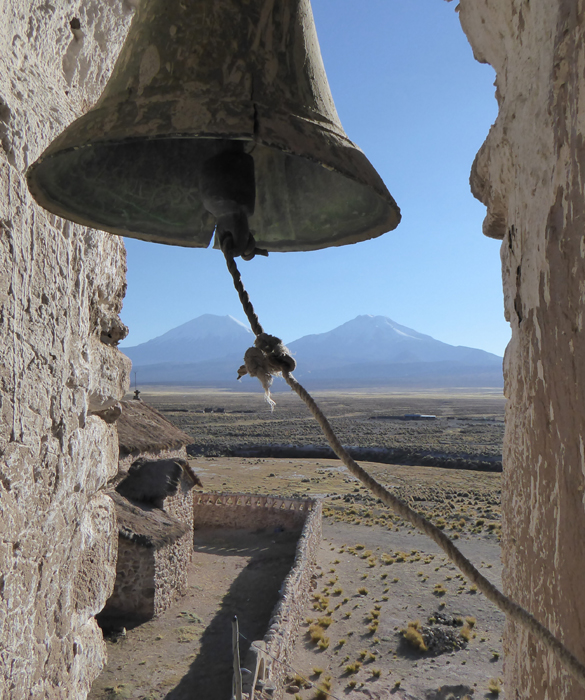 Parinacota (on the left) and Pomerape from the village of Sajama in Bolivia. We'll climb Parinacota from the 5300m high col between these two peaks.
FITNESS & EXPERIENCE NEEDED
There is no difficult climbing involved in the ascents planned on this expedition. Snow and ice sections we encounter on this expedition should be straightforward. So although previous experience of winter walking or climbing is useful, it is not essential. However clients should have good general high mountain or Alpine trekking experience, as you will be walking on rough paths and sometimes untracked terrain at heights well in excess of 5000m.
Climbing to such heights is always a serious matter because of the lack of oxygen at high altitude. For this expedition good mountain fitness and stamina are important, but for high altitude expeditions clients also need good cardiopulmonary (heart and lung) fitness. This can only be maintained, by a program of intensive exercise such as sprinting (not jogging), squash or sprint cycling. This should be done in small doses (e.g. an hour every other day) over a period of at least two months.
The trip is largely vehicle based, but on Parinacota, and possibly Acotango we will have one or two nights camping at the "roadside". Clients should be prepared for cold nights when camping and be prepared for windy and perhaps dusty weather at times out in the mountains. As we'll be a long drive from the nearest supermarket we will have to put up with some tinned and/or freeze-dried food in our meals during our time in the mountains. All clients are expected to help a little with the routine work of this type of expedition; pitching tents, cooking and washing up
CLIMATE
The climate at altitude in the Bolivian Andes is very cold and extremely dry. In the mountains temperatures can fall to -10ºC at night. During the day in the mountains it can feel very warm in the strong sun, but it can also be bitterly cold and windy. It may well be dry all the time we are in South America, but there is quite a high chance of a snow flurry, or occasional afternoon thunderstorm in the mountains. As we are near the tropics come prepared for about 10-12 hours of darkness every night.
ORGANISATION & LEADERSHIP
Our expeditions are designed to be small and flexible. The expedition will be co-ordinated, organised and lead by us, but we will consult and involve the expedition members when planning the day-to-day details of the trip. Please note however that the leaders decision is final where the safety of the group or any member is in jeopardy; for example where retreat or diversion is necessary due to altitude illness or bad weather. The minimum group size we need to run this expedition is three clients. The maximum size of this expedition will be four clients plus leader.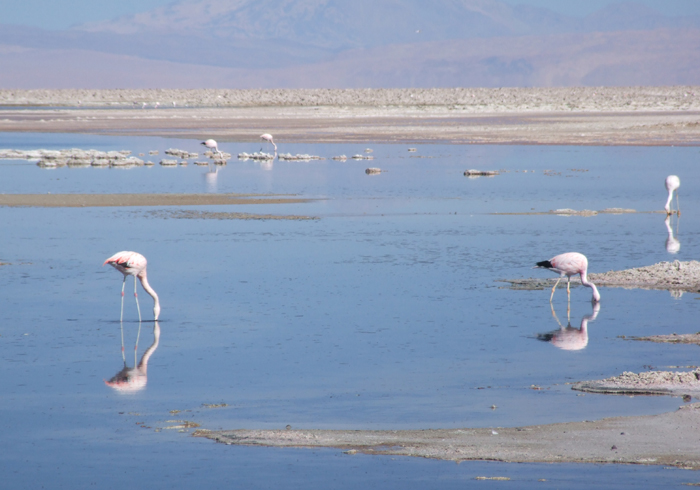 Flamingoes on the Salar de Uyuni.
INSURANCE, HEALTH & SECURITY
All clients must be insured for medical costs and repatriation in an emergency. We recommend having insurance for baggage, personal liability and cancellation as well. If you would like further advice please ask. Vaccinations for tetanus, typhoid and polio are recommended.
SAFETY AND RISK
This is an adventure holiday and all clients will be exposed to hazards not found in everyday life by taking part in this itinerary. While we take all reasonable precautions to reduce risk it is neither possible nor desirable to completely eliminate these hazards. It is important that you understand the hazards you may be exposed to before signing our booking form. We have identified the following areas as the principal additional risks of this itinerary. (Some of these could potentially result in serious injury or death). This is not a fully inclusive list - a more detailed risk assessment of this itinerary is available on our Risk Assessments page, or phone/e-mail us and ask some questions!
Driving, hotels and general safety : In Bolivia the driving, fire standards and general safety standards are not as high as in Europe, although they are good
Extreme remoteness : You will be camping and travelling in remote areas for several nights and therefore obtaining medical assistance for any problem will be a slow process, taking many hours. There is no chance of a helicopter rescue.
Minor slips and falls : due to steep, uneven and unstable ground.
Weather : This area is occasionally affected by severe and sometimes dangerous storms, including thunderstorms. There are sometimes high winds. Forecasts are not so reliable.
Altitude : At high altitudes there is an increased risk of medical problems, most obviously altitude illness.
Mountain Hazards : In certain places you may be subjected to a slight risk of rock fall, or slip on icy terrain or steep snow.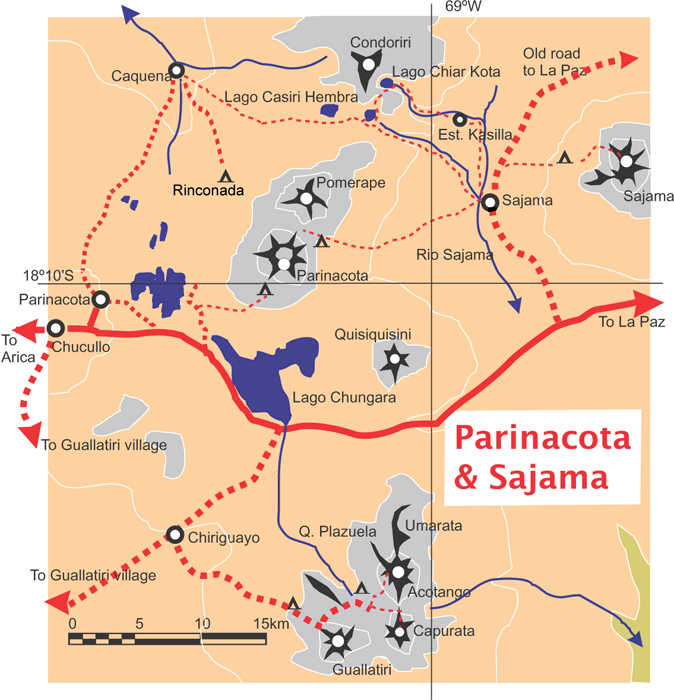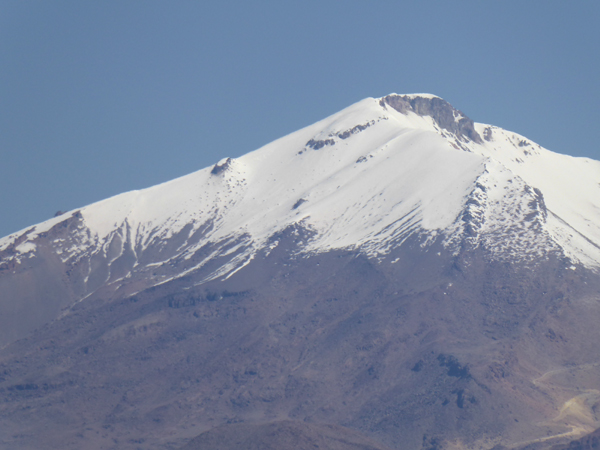 The northeast side of Acotango as seen from the village of Sajama in Bolivia.