Guidebooks - European and EU Purchases
EUROPEAN ORDERS - € 55.00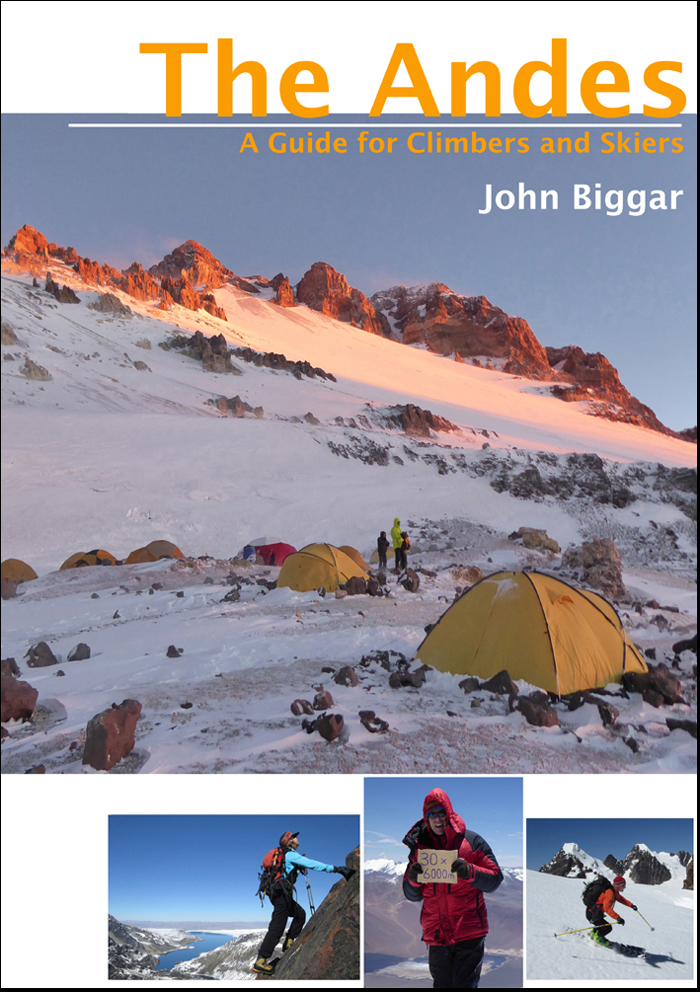 The Andes - A Guide for Climbers and Skiers - ISBN 978-0-9536087-6-8.
The Buy Now button takes you to PayPal where you can buy the paperback 5th English edition of our guidebook directly from us. The price of includes tracked airmail postage to EU destinations and elsewhere in Europe such as Russia, Serbia, Ukraine.
Delivery times to most destinations are 4 or 5 working days.
Please email us for details if you want to pay by bank transfer.
You can also buy a book from us by posting a cheque for € 55.00 to the address below.
Not in Europe or the EU? use one of these links instead:-
For more information about our guidebooks, including details of the Spanish edition and our English edition E-books, go to this page:-
Andes Guidebooks Information Page
---
Direct Book Sales - The Small Print.
1. You are purchasing your guidebook directly from the author and publisher John Biggar t/a ANDES, 37a St Andrew Street, Castle Douglas, Kirkcudbrightshire, DG7 1EN, Scotland. Telephone 00 44 1556 503929. John Biggar is the sole proprietor of ANDES.
2. We'll accept returns if your book is damaged or faulty in some way. In this case we will replace the book but probably ask you just to discard the faulty copy. Please phone or email first to arrange a return.
3. If you simply change your mind about owning the guidebook you have purchased from us within 14 days of receiving it we will refund your money (when you return the book to us!!). Return postage in this case is at your expense. Please phone or email us first to arrange a return.
4. We won't send you unsolicited emails, nor pass on your postal address or email address to anyone else. We do not use cookies.
5. Our VAT number is GB 751 2817 38
---